At Westminster-Canterbury on Chesapeake Bay, the idea of vacation-style living doesn't end on Labor Day.
Tourists have to go home. You are home.
There are resort style communities up and down the east coast, but just one right on the beach in coastal Virginia. If you're a seeker of the active lifestyle, you can swim, sail, take walks along the shore, and play as many rounds of golf as you'd like. If you crave peace and tranquility, you don't have to look far. It's peaceful and quiet here—as long as you don't mind the ospreys and herons that might greet you from above.
Life at Westminster-Canterbury on Chesapeake Bay means choices. Your choices. Head outside year round to take advantage of everything each of the four seasons has to offer. With our gorgeous beachfront, you can enjoy a unique active lifestyle in Virginia Beach of sunset walks along the beach, yoga or tai chi while listening to the waves crash, and even paddleboard sessions with your new neighbors who quickly become your friends. Take in a round of golf at the nearby golf course, or throw your fishing line for some relaxation. And don't forget the level of joy that comes with enjoying the views of the Bay every day of the year. Beachfront living. Mild seasons. Local shopping and amenities. Life your way. Westminster-Canterbury on Chesapeake Bay has everything you are looking for, multiplied.
The Beach
In Virginia Beach, Westminster-Canterbury Is The Retirement Port Of Call.
A haven, a harbor, a place to unwind.
Studies show how living near the water can enhance your life.1 Now that option is yours. Our retirement community in Virginia Beach is on the Chesapeake Bay, where the sound of the waves, the kiss of the breeze, the song of the seabirds, and the feel of the sand on your toes represent the panorama of daily life. Right outside your door!
Not only is our retirement community located on the prime beachfront real estate of the Chesapeake Bay, so you're only steps away from the beach, you're also connected to miles more shoreline to explore just minutes away at the Virginia Beach oceanfront. National Geographic called the nearby Virginia Beach boardwalk one of the 10 best in the country. So grab a magazine and come relax. Watch majestic vessels at sea and get instant access to ship information using Marine Traffic maps. Or dive right into a game of bocce or croquet. Like everything else at Westminster-Canterbury, it's entirely up to you.
And if National Geographic isn't enough, listen to the testimonials of some of our residents.
Call us today at 800-753-2918, or schedule a visit.
1Wallace J. Nichols, Blue Mind: The Surprising Science That Shows How Being Near, In, On, or Under Water Can Make You Happier, Healthier, More Connected, and Better at What You Do (New York: Little, Brown & Company, 2014)
Close
Outdoor Destinations
Now Here's A City That Knows How To Host A Retirement Party!
If your goal is relaxation, you found the right place—in Virginia Beach.
Residents of our retirement community in Virginia Beach live in a town remarkably well-suited for those who want to live life to the fullest.
With several local marinas, five public golf courses, more than 260 parks, and 100 miles of walking and bike trails, this is one destination that knows how to get you wound up, just as easily as it helps you unwind. Forbes Magazine named it one of the best regions in the nation for outdoor activity. Take a page from them: request more information or Call us today at 800-753-2918.
Close
Cultural Destinations
Do You Want Senior Living To Be Extra Special? The Tide's In Your Favor.
Immerse yourself in the vibrancy of Virginia Beach.
Senior living couldn't have picked a better destination. Explore our points of historical and scientific interests, and year-round performing arts.
Head down to the boardwalk, where there are more events than summer weekends: the American Music Festival, the Neptune Festival, the Boardwalk Art Show. If you'd like to get out of the sun, take in a performance at the Sandler Center for the Performing Arts, or visit the Contemporary Arts Center or the Virginia Aquarium. For everything Virginia Beach has to offer, look no further than the Virginia Beach Convention & Visitors Bureau!
Don't forget that for everything happening in town, there are also many events right here in our community. Visit the library and the chapel, the Tuttle Courtyard, the Mermaid Garden and Meditation Garden, and much more. Just ask. Call us at 800-753-2918, or schedule a visit.
Close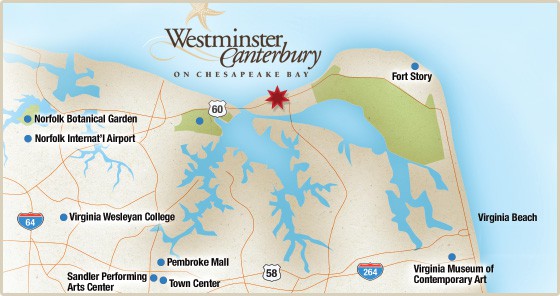 Take a moment to Discover the Chesapeake Bay. You might just decide to go with the flow.