---
Topics: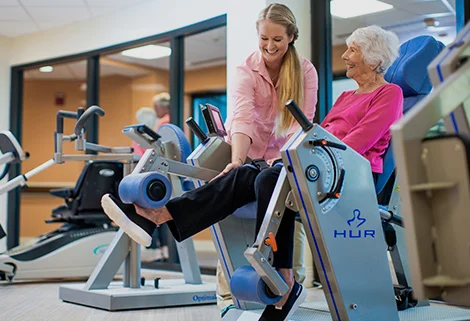 Comprehensive, compassionate rehabilitation for:
Stroke
Arthritis
Hip Fractures
Joint Replacement
Other Orthopedic Injuries/Conditions
Congestive Heart Failure
Chronic obstructive pulmonary disease (COPD)
Neurological Disorders
Pain Management

Highly specialized care from certified therapists:
Speech
Physical
Occupational
Psychology & Psychiatry
Hand & Shoulder
Aquatic Therapy
Vestibular Rehab Specialist—to help patients with inner ear disorders such as vertigo, dizziness, visual disturbance or imbalance.
Pelvic Floor Rehab Specialist—to help patients with urinary or fecal incontinence, urgency/frequency of urination, and/or pain in the pelvic region.
LSVT BIG® Specialist—to help patients with Parkinson's disease increase their "neuroplasticity," safety, and quality of life.
Kinesio Tape®

Coordinated, custom-tailored care from a team of on-site physicians and specialists:
Internal Medicine (24/7/365)
Geriatrics
Wound Care
Dermatology
Foot Specialist
Dental
Audiology
Masters Prepared Social Workers

What makes us different from other rehab centers?
Frequent visits by attending physician/physician assistant
24-hour coverage by registered nurses specially trained in patient assessment and evaluation
Multidisciplinary, collaborative team approach
Leading rehabilitation expertise
State of the art therapy gym and rehabilitation technology
In-room oxygen
Ultrasound
X-ray
PICC line insertion
IV therapy
MSW on site